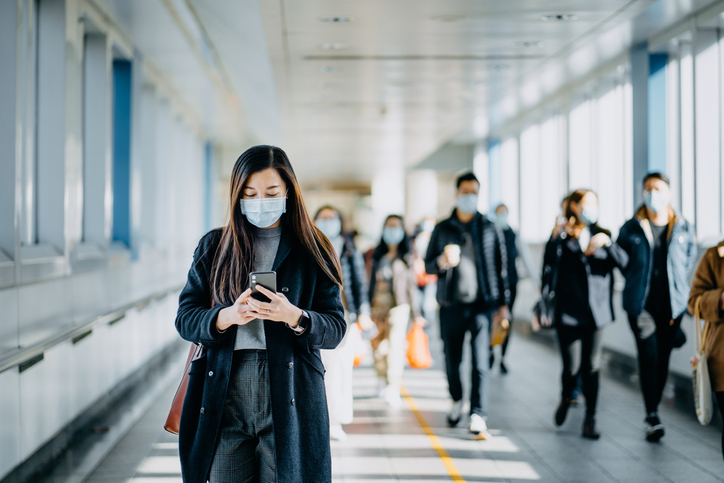 General
"Lightning Round" Highlights Technologies That Are Reopening the Economy
Jeff Dunsavage, Senior Research Analyst, Triple-I
03/30/21
Last week's Lightning Round V: Reopening America in the Post-Pandemic Scenario – a collaboration between Triple-I's Resilience Accelerator, ResilientH20 Partners, and The Cannon – featured three technologies that promise to help facilitate the recovery.
Tomer Mann, executive vice president of business development for 22 Miles, discussed his company's "digital experience platform," which incorporates temperature-scanning technology, touchless kiosks, virtual concierge, and other applications to provide social distance among customers and employees and early warning of possible infection in business settings.
"In March, when we were seeing a lot of the temperature-scanning solutions coming out of China, we realized we could leverage our software to pivot and create a more secure solution, avoiding some of the sensors that are coming out of China that are blacklisted in the trade market and avoiding some of the data breach implications," Mann said.
22 Miles' "workplace workflow" starts at a building's lobby, using facemask and temperature detection and including badge integration and access control for employees and guests. For companies using shared workspaces, the system tracks what spaces are being used to facilitate sanitization between uses. To minimize physical contact while maximizing interactivity, the system's components can be activated using voice, gesture, or mobile device.
In addition to facilitating safe, hygienic use of these spaces, the system captures large amounts of data that can provide warnings of possible infections and inform modifications to the workflow.
Santiago Mendoza, senior vice president with Integrated Viral Protection, spoke about his company's indoor air protection system, which has been shown to capture and destroy coronavirus at a 99-plus percentage rate. The system has shown similar results when tested with anthrax spores and other airborne pathogens.
Heating, ventilation, and air conditioning (HVAC) systems are "super spreaders" of coronavirus and other pathogens, Mendoza said, adding that most filter systems only catch and don't kill them.
"Our system heats up to almost 400 degrees Fahrenheit and destroys the pathogens," he said.
The IVP system is available for commercial and residential uses and has been installed in hospitality venues, health facilities, and schools across the United States, Mendoza said. It comes in multiple sizes, including a personal unit for travelers to use in hotel rooms and other closed spaces.
Jennings Heussner, business development manager for BioBot Analytics, a wastewater epidemiology company, explained how BioBot went from testing for opioids to tracking coronavirus.
"We analyze wastewater coming into treatment plants for human health markers," Heussner said. The company originally was focused on the opioid epidemic, helping communities better understand the nature of their local opioid problems to better inform their public health response.
When the pandemic hit, BioBot expanded its focus and became the first company in the United States to identify the presence of the virus in wastewater.
Leveraging existing wastewater sampling processes, BioBot analyzes the sample and reports back within one business day after receiving it, providing a quick, inexpensive, comprehensive early warning system.
Such technologies will be essential parts of building a pandemic-ready and resilient society. Such technologies will be essential parts of building a pandemic-ready and resilient society. Anticipating and addressing outbreaks early can help relieve health-related and business-interruption concerns and head off insurance claims.
Just as the insurance industry played a vital role in improving vehicle safety, infrastructure, building codes, and more, insurers and risk managers – partnering with policymakers, businesses, homeowners, and others – will help determine which of these emerging solutions will endure.