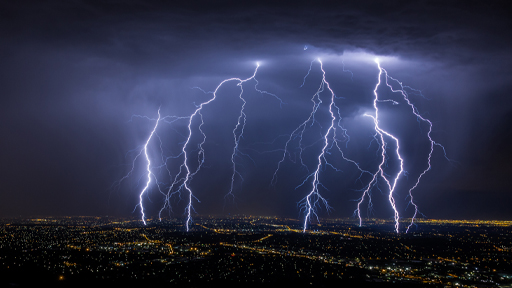 General
Lightning Rounds: Investing in disaster and risk management technology
July 17, 2020
The Insurance Information Institute (Triple-I) yesterday hosted a webinar showcasing technology companies whose products mitigate the impact of severe weather on homeowners, businesses and communities. This is the first in a series of Lightning Rounds – fast-paced pitch panels for insurance and non-insurance investors.
The webinar is part of the Resilience Accelerator initiative, a collaboration of Triple-I, ResilientH2O Partners and The Cannon. 
During the Lightning Rounds, pre-vetted technology companies, equipment suppliers, integrated solution providers, and large-scale project development teams present their unique value propositions.
This Round's focus was flood prevention. Shelly Klose, CEO of True Flood Risk described the company's AI-driven risk management platform that provides individual property data, geolocation intelligence and risk scores related to flood risk in real-time without an on-site inspection. Tasha Nielsen Fuller, CEO of FloodFrame USA, presented a system which is installed underground around a structure, and automatically deploys in a flood, protecting the structure. Rahel Abraham, Founder and Chief Executive Officer of ClimaGuard, was inspired to invent a water-resistant wrapping for vehicles and other possessions when her own vehicle was flooded during Hurricane Harvey.
To view a recording of the webinar click on the video above.
Webinar overview
Part 1: A view from the C-Suite: Identifying the right technology and risk solutions
Brian Gaab, Strategy & Innovation, CSAA Insurance Group, a AAA Insurer
Susan Holliday, Senior Advisor, International Finance Corporation | The World Bank Group
Matthew T. Schneider, Co-CEO, Aon Risk Solutions, M&A and Transaction Solutions
Michel Leonard, PhD, CBE (Moderator), Senior Economist & Vice President, The Insurance Information Institute
Part 2: Use Cases: Bringing to market flood management solutions
Presenting Companies:
Shelly Klose, Founder and Chief Executive Officer, True Flood Risk
Tasha Nielsen Fuller, Chief Executive Officer, FloodFrame USA
Rahel Abraham, Founder and Chief Executive Officer, ClimaGuard
Panelists:
Brian Gaab, Strategy & Innovation, CSAA Insurance Group, a AAA Insurer
Susan Holliday, Senior Advisor, International Finance Corporation | The World Bank Group
Matthew T. Schneider, Co-CEO, Aon Risk Solutions, M&A and Transaction Solutions
Remington Tonar, Chief Resilience Officer and Senior Advisor, The Cannon
Richard Seline (Moderator), Managing Partner, ResilientH2O Partners