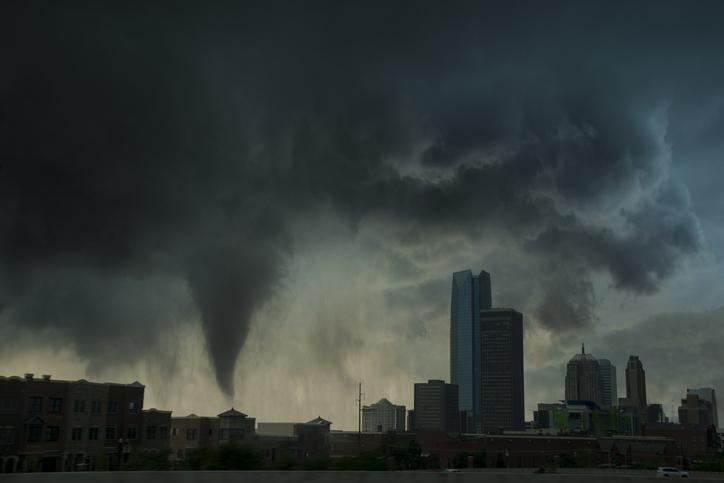 Tornadoes
2023 Tornado Season Chalks Up Big Losses Early
Max Dorfman, Research Writer, Triple-I (04/26/2023)
With more than 400 tornadoes reported so far this year, 2023 is already set to be one of the most active tornado seasons in history.
Insured losses from the March 24 Mississippi Delta storms are approaching $100 million, according to Insurance Commissioner Mike Chaney.
"Uninsured losses will likely exceed that number," Chaney said. "Data is still being collected."
In Oklahoma alone, more than 30 tornadoes have been reported. Even the Eastern Seaboard — not generally associated with tornado risk — is not being spared. On one day in early April, New Jersey experienced seven tornadoes, tying its previous one-day record set in 1989.
Improved reporting, combined with shifting populations, may explain tornado increases in some areas.
According to a National Oceanic and Atmospheric Administration (NOAA) report examining tornado trends over the past three decades, in the 1970s there were about 150 days per year with at least one confirmed tornado in the United States. NOAA says that number has fallen to between 90 and 100 days in recent years, but "the number of days with dozens of tornadoes – 30 or more – have increased by a factor of five, from one day every other year to 2.5 days annually."
The report says an apparent increased frequency during the early 1990s corresponds to the implementation of Doppler weather radar and "the growing 'hobby' of tornado chasing." It also points to the advent of cellular phones and camcorders, which "not only provide documentation of many weak tornadoes, but also, on occasion, shows the presence of multiple tornadoes immediately adjacent to each other."
Indeed, reported big twisters appear to be spawning less frequently in western Texas and Oklahoma, part of the area recognized as Tornado Alley. This could indicate a shift to the east, in which case they could affect more populous regions.
How insurance can help
Standard homeowners, renters, and business insurance policies cover property damage caused by tornadoes under the optional comprehensive portion of an auto insurance policy. Nearly 80 percent of U.S. drivers opt to purchase comprehensive coverage.
Triple-I recommends a checklist for homeowners, renters, and auto policyholders:
Contact your insurance professional and start the claims filing process. 
Take photos of damage.  A photographic record eases the insurance claim process. 
Make temporary repairs to prevent further loss from rain, wind, or looting; these costs are reimbursable under most policies, so save repair-related receipts. 
Compile a detailed list of all damaged or destroyed personal property.  Do not throw out damaged property until you meet with an insurance adjuster. If you have a home inventory, it will make the claims-filing process easier. 
Hold off on signing repair contracts. Deal with reputable contractors and get references. Be sure of payment terms and consult your insurance adjuster before signing any contracts. 
Check to see if you're eligible for additional living expenses (ALE). Standard homeowners and renters insurance policies pay for the extra charges (e.g., temporary housing, restaurant meals) you incur over and above your customary living expenses if your home is uninhabitable because of an insured loss. Save all related receipts and, if you have vacated your home, make sure your insurer knows how to contact you.