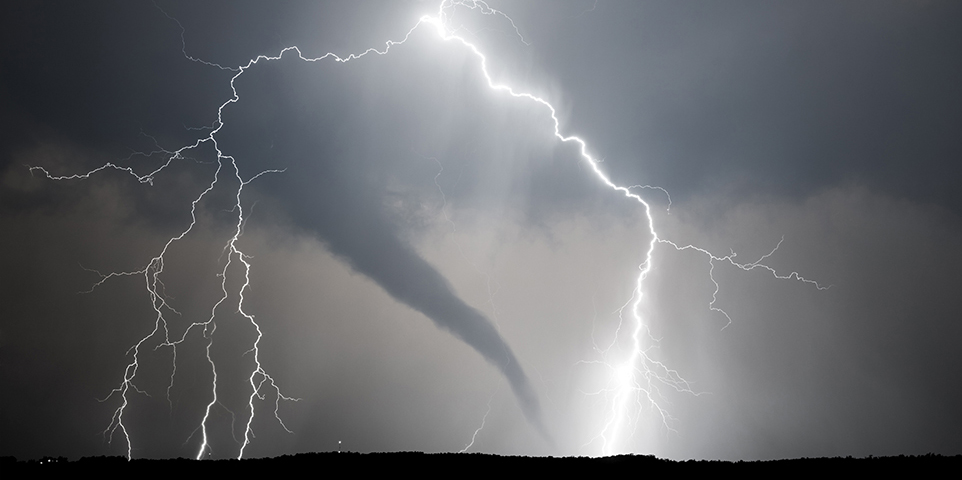 Tornadoes
Is the Latest Twister Disaster an Anomaly or "the New Normal?"
Jeff Dunsavage, Senior Research Analyst, Triple-I (12/13/2021)
Friday night's tornado outbreak is set to become the worst and deadliest on record to strike the United States during December. If it is confirmed as a single, continuous tornado – rather than a series of twisters – the "quad-state tornado" would rank as the longest-track tornado in U.S. history.
The National Weather Service received 37 reports of tornadoes in six states Friday. The most destructive tornado or series carved an approximately 250-mile path through northeast Arkansas, southeast Missouri, northwest Tennessee and western Kentucky. While history is full of examples of devastating December tornadoes, this was unlike anything seen in modern records.
"Last night was one of the most shocking weather events in my 40 years as a meteorologist," tweeted Jeff Masters, an expert on extreme weather.
The event was triggered by a powerful low-pressure system that lifted from the Southern Plains into the Great Lakes. Fueled by record-setting warm temperatures and a La Niña weather pattern, the disaster raises questions about atmospheric conditions that are intensifying with warmer winters.
Severe convective storms are among the most common, most damaging natural catastrophes in the United States. The result of warm, moist air rising from the earth, they manifest in various ways, depending on atmospheric conditions, from drenching thunderstorms with lightning to tornadoes, hail, or destructive straight-line winds. While it's difficult to tease out whether such storms are actually increasing, one thing is clear: They are becoming more costly.
Population growth and economic development have contributed to increasing losses. At the same time, research suggests the geography, frequency, and intensity of these storms also may be changing. In fact, some experts have proposed that the name "Tornado Alley" – referring to a twister-prone stretch of geography running from Texas and Oklahoma through Nebraska and Kansas – be retired to reflect new realities.
"To be honest, I hate the term," said Stephen Strader, an atmospheric scientist at Villanova University specializing in severe weather risk mitigation. "What people need to understand is that if you live east of the continental divide, tornadoes can affect you."
Research has shown tornadoes are just as common in the Deep South as they are on the Plains, and there is no real drop in tornadoes as one exits Tornado Alley to the east.
President Biden told reporters Saturday that he would ask the Environmental Protection Agency and other federal authorities to explore ties between the tornadoes and climate change. Federal Emergency Management Agency (FEMA) administrator Deanna Criswell called the outbreak "our new normal."
"The effects we are seeing of climate change are the crisis of our generation," Criswell told CNN's Jake Tapper. "We're taking a lot of efforts at FEMA to work with communities to help reduce the impacts that we're seeing from these severe weather events and help to develop systemwide projects that can help protect communities."
For more insight, see our white paper: