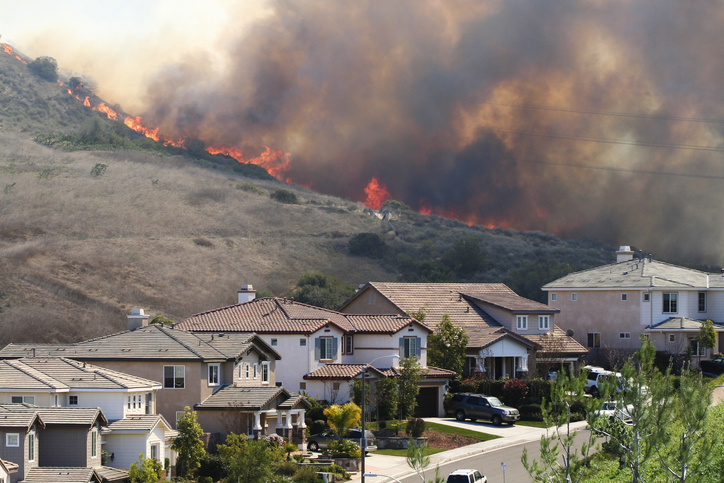 Wildfires
Atypical Wildfire Activity? Of Course — It's 2020
If you need any further evidence of the anomalous nature of the year 2020, you can take a look at California's wildfires. Two of the three largest fires in California history now are raging across the state alongside about 600 others, burning more than 1.3 million acres — an area about the size of Delaware — and forcing more than 100,000 people to evacuate.
Those of us who aren't directly affected may have become jaded enough to think, "More fires in the West. That's normal."
But as Janet Ruiz, Triple-I's California-based director of strategic communications, explains, "We've had a significant number of large wildfires since 2015, but this year is anything but normal."
Your first clue might be the alphabet soup of names applied to this year's blazes: LNU, CZU, SCU. You might remember Northern California's major wildfires in recent years — the Camp Fire, the Carr Fire, Tubbs, Ferguson — and wonder why this year's don't have similarly straightforward names.
According to California fire officials, it's because the number of fires has required them to be grouped together in "complexes":
The LNU Lightning Complex in the northeast Bay Area, including Sonoma, Napa, Solano, and Lake counties.
The CZU Lightning Complex in the western and southern Bay Area, including San Mateo and Santa Cruz counties.
The SCU Lightning Complex in the eastern and southeastern Bay Area, including Santa Clara, Alameda and Contra Costa counties, and neighboring San Joaquin and Stanislaus counties.
"We only group fires like that when we have a lightning siege as such," Brice Bennet, a public information officer for the California Department of Forestry and Fire Protection (Cal Fire), told the San Francisco Chronicle.
The last major lightning siege was in 2008.
"Once the fires are grouped into a complex," the Chronicle explains, "they're managed so that fire managers can assess all the different fires within each one and share resources across the greatest need — life being first, and property second. That's where the prefixes…come in. Those monikers are geographical locators based on Cal Fire administrative unit codes."
Ruiz explained that many of the fires since 2015 were caused by human activity, rather than nature.
"Authorities have worked hard and invested a lot of money to mitigate those causes," she said. "Then along comes this unpredictable, unpreventable abundance of lightning strikes."
Fewer firefighters: Thanks, COVID-19
The daunting number of blazes coincides with a reduced availability of firefighters, courtesy of the coronavirus pandemic.
"In past seasons, a lot of help came from inmates recruited to assist in firefighting," Ruiz said. "Many of these have been released because of COVID-19 and therefore aren't available."
Less warning, preparation is paramount
Lightning is the universal metaphor for random ill fortune, and the chaotic causation of California's 2020 fires has affected how authorities communicate with residents about impending threats.
"Normally you'd get warnings about approaching fires, followed, if necessary, by a mandatory evacuation order," Ruiz said. But last week, when Ruiz was evacuated, "We didn't get an advisory – we were just told to go."
Wisely, she and her husband keep "to go" bags near their front door and were able to leave within 10 minutes of receiving the evacuation order.
A year characterized by a global pandemic, historic civil unrest, an "extremely active" hurricane season, a destructive derecho – not to mention the more bizarre entomological offerings of murder hornets, zombie cicadas, and invasive "jumping" earthworms – is no time to forgo caution where wildfire safety is concerned. Ruiz reminds us that this fire season is still young, and more and worse may be in store.
Further Reading:
Safeguard Your Business From Wildfires: Allianz and Triple-I Team Up on Mitigation
Wildfires and Insurance: Learn How to Prepare Financially
Are You Financially Prepared for a Wildfire?
Knowing Insurance Is Part of Wildfire Preparedness