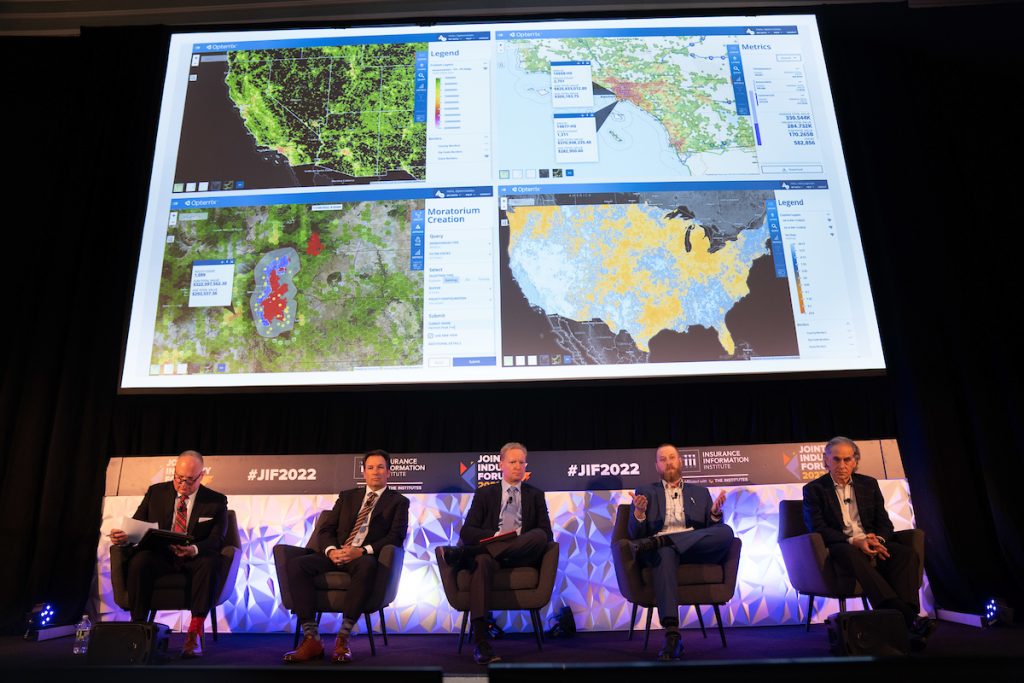 Wildfires
JIF 2022 Climate Panel Focused on Wildfire Risk
Jeff Dunsavage, Senior Research Analyst, Triple-I (12/05/2022)
Climate risk figured prominently throughout Triple-I's Joint Industry Forum last week – from the impact of severe weather events on insurers' loss ratios to its significance in terms of changing risk profiles and to Florida homeowners' insurance crisis.
In addition, an entire panel was dedicated to the topic of wildfire risk, featuring:
Jim Boccher, Chief Development Officer, ServiceMaster;
Craig B. Clements, Ph.D., Professor of Meteorology, San José State University, Triple-I Non-resident Scholar;
Jeffrey W. Huebner, EVP & Chief Risk Officer, CSAA Insurance Group;
Niels Jorgensen, Ph.D., Data Scientist, Opterrix, Inc.; and
Seth Rachlin, Ph.D., Executive Vice President and Global Insurance Leader, Capgemini
Dr. Phil Klotzbach – a research scientist in the Department of Atmospheric Science at Colorado State University and Triple-I non-resident scholar – kicked off the panel by summarizing the 2022 Atlantic hurricane season, as well as addressing the interconnectedness of hurricane and wildfire risk.
The same La Niña conditions in the Pacific Ocean that drive Atlantic hurricanes also contribute to dryness across the U.S. Southwest, Klotzbach said.
"La Niña also tends to shift the jet stream in such a way that the southwestern United States tends to have more drought-like conditions," he said. Such conditions increases the chances for wildfires.
The trend toward La Niña conditions over the past 30 to 40 years has exacerbated wildfire risk generally, Klotzbach said, and population shifts into wildfire-prone areas have contributed to greater costs when wildfires happen.
"Insured wildfire losses are on the rise – as are losses from other natural catastrophes, and for many of the same reasons," said panel moderator Jim Boccher. "More homes, more vehicles, more infrastructure moving into harm's way contributes to higher insured losses."
Dr. Craig Clements highlighted the role of fuels, topography, and weather in driving wildfire risk – and changes in any of these areas can lead to costly surprises in fire behavior. He cited the Marshall fire in Boulder, Colo., as an example.
"What was most surprising about that one, from a fire-science perspective, was that it was a grass fire," Clements said. "Grass fires, though fast moving, don't usually burn a thousand structures. That caught a lot of people by surprise."
"Things are getting worse," Capgemini's Seth Rachlin said in response to a question about the insurance impact of these developments. "And when things get worse and losses increase, insurance gets more expensive or insurance doesn't get written, and that's a problem. It's a problem from a regulatory perspective, from a business perspective, and from a customer perspective."
Rachlin said he focuses on how technology can be brought to bear on the insurance problem.
"We can clearly do a much better job of using all the data that's out there to inform our models so that pricing is more aligned to the risk that's getting written," he said.
He added that personal lines underwriters and claims professionals should consider adopting methods that have come to be expected in the commercial lines sector.
"Obviously, we can't send an engineer to every site with a hardhat and a clipboard," to examine every home that is to be insured, Rachlin said, "But we can use satellite imagery, drone imagery, sensors, and data available from the internet of things to get a better handle on these individual risks."
CSAA's Jeffrey Huebner pointed to the growing maturity of wildfire modeling technology in recent years.
"You've got lots of new carriers coming into the space and new data providers that we need to take advantage of so we can collectively provide new data solutions tomorrow differently than we have historically," he said.
Niels Jorgensen provided an illustration of how Opterrix uses data visualization to help insurers "identify, quantify, and mitigate avoidable losses."
"We are automatically monitoring wildfires from their ignition all the way to their extinction," he said. "That has applications in the underwriting space, it can also help with mitigation and evacuation, and we can also help with claims response very quickly after an event."
But data isn't a panacea. Huebner pointed to the need to changing customers' aesthetic perceptions and behaviors to encourage the kind of investment needed required to mitigated wildfire risk.
"It's hard to motivate the individual consumer to take the actions," he said, adding that CSAA provides a 15 percent discount to customers who harden their homes against fire. Even with such incentives, the panel agreed, change doesn't come easily.
Learn More:
Triple-I/Capgemini Research Paper: Tamping Down Wildfire Threats