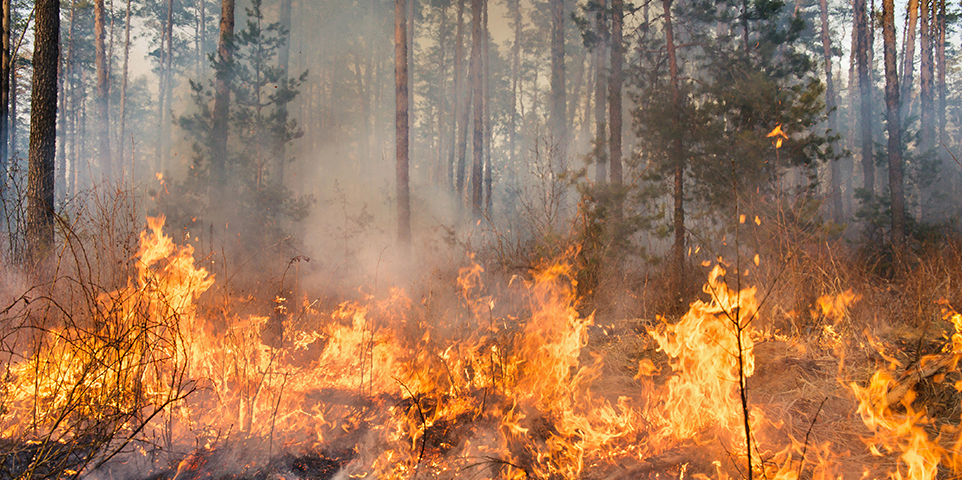 Wildfires
National Fire Protection Agency Outlines Strategy for Long-Term Mitigation
Max Dorfman, Research Writer, Triple-I (09/16/2022)
A recent report by the National Fire Protection Association (NFPA) underscores the importance of mitigating blazes and the possibility of permanently limiting their damage.
The report draws from NFPA's recent Outthink Wildfire summit, which focused on wildfire risk to existing properties and communities. Summit participants collaboratively worked to identify areas most in need of national focus and to make recommendations for addressing them. NFPA plans to use the recommendations outlined in the report as a guide.
Approximately 45 million homes are located in the wildfire urban interface (WUI), defined as "the zone of transition between unoccupied land and human development," according to the Federal Emergency Management Administration (FEMA). This number increased from 1990 to 2010, to 43.4 million from 30.8 million. During the same period, the WUI grew from 143,568,227 acres to 190,271,144.
Despite the $2 billion to $3 billion spent annually to support wildland fire suppression efforts, the number and damage caused by wildfires has grown dramatically over the past 10 years. The number of houses lost to wildfires in the United States annually has grown 163 percent, and the estimated total cost of U.S. wildfires now stands between $63 billion and $285 billion per year.
"If agencies, policies, and programs put disaster prevention and wildfire preparedness at the home and community level at the top of the priority list, with the funding to match, that would go a long way toward ending wildfire disasters," said Michele Steinberg, Wildfire Division Director of the NFPA. "NFPA and many others have been saying for years that the outsized emphasis on suppression of wildfires is not solving the disaster problem."
Moving forward
NFPA's strategy acknowledges that wildfires will occur, with fire services unable to help all people and property affected. It recommends five rules that governments should follow:
Require all homes and businesses in the WUI to be more resistant to ignition from wildfire embers and flames;
Current codes and standards, as well as sound land use practices, must be in use and enforced for new development and rebuilding in wildfire-prone areas;
Fire departments for communities in the WUI must be prepared to respond safely and effectively;
Government must increase resources for vegetative fuel management; and
The public must understand its role and act to reduce wildfire risk.
NFPA also states that change can be achieved through:
Research and development, public education, and financial incentives, including extension services and voluntary programs such as Firewise USA® and the Fire Adapted Communities Learning Network;
Tax incentives to support retrofitting activities;
Replacing combustible roofing materials or installing double-paned windows; and
Having states support the development of a skilled workforce homeowners can turn to for help evaluating and mitigating wildfire risks to their home and property.
"For the past 20 years, NFPA has led the nation in wildfire mitigation outreach and education in the form of its Firewise USA® recognition program that engages homeowners and provides a process for them to work with their neighbors to reduce community-wide risk," Steinberg said. "Outthink Wildfire™ has given NFPA a broader platform to speak to legislators and policymakers at all levels of government to advocate for the use of codes, standards, and land use laws for safer development in high-risk areas."
"All entities working together is the only way we can move forward and make significant change to managing wildfire risk," added Janet Ruiz, Triple-I's director of strategic communication.