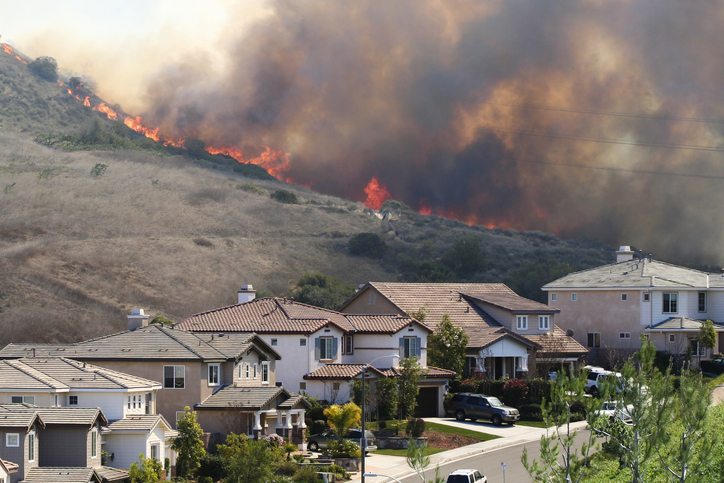 Wildfires
Technology Supports Wildfire Resilience
By Max Dorfman, Research Writer, Triple-I (10/12/2021)
As risks evolve, so must technologies for mitigation and response. Over 58,000 wildfires burned in the U.S. last year, engulfing over 8.7 million acres. With this costly risk only increasing, companies are racing to improve fire resilience methods.
Remote viewing
Flyreel applies artificial intelligence (AI) to home inspections using remote interior and exterior property scans. Flyreel's Property Assistant solution detects features that contribute to wildfire risk — including exterior construction materials and vegetation growth near the home — using insurance-specific compute-vision models. It also can provide ground-level images and videos to help identify additional risks, including storage of materials under porches and decks, house vent coverings, and other risk factors.

In the event of a loss, Flyreel provides a pre-loss record that includes videos and pictures to streamline the claims process.
Remote inspection techniques have become particularly important during COVID-19 with the need to maintain social distance. Earlier this year, Flyreel teamed up with Openly, which offers homeowners insurance through independent agents. Openly lets homeowners perform self-inspections through Flyreel's AI tools, video, and a chatbot.
Detailed imaging to inform upgrades
Another company, Firemaps, uses drones to create detailed 3-D renderings of a building. The homeowner then gets a list of suggestions, including areas that urgently need to be fixed and those that can wait.
"Most of the homes in high-risk areas in California are not constructed to withstand wildfires," said Dr. Rebecca Miller, a postdoctoral scholar with the West on Fire Project at the Huntington-USC Institute on California and the West. Typically, only newer California homes are built with wildfires in mind.
Since 2017, California experienced its eight largest wildfires in history, according to the California Department of Forestry and Fire Protection. As a result, decisions by insurers not to renew policies in high-risk areas are on the rise.
Insurance companies and local fire departments are increasingly asking communities in California to retrofit their homes, but this is a complex, expensive process. This is the gap that FireMaps aspires to bridge, says Jahan Khanna, a former Uber executive and Firemaps co-founder.
Drones in firefighting
Private start-ups aren't the only organizations using drones. Despite mixed experiences early on, drones are making their way into firefighters' toolkits.
Drones actually used to present a hazard to firefighters, with individuals flying them over blazes. The past few years have seen multiple reports of drone pilots interfering with fire suppression. In 2019, a private drone over the Coldwater fire in Arizona's Coconino National Forest made officials fighting the fire stop their operations. Additionally, manned aircraft fighting the fires were at risk of hitting drones.
However, drones are now being used much as manned aircraft were previously—with some added advantages. With the right pilot, drones can be flown correctly and are more maneuverable than manned helicopters or fixed-wingaircraft. They can also provide aerial shots, helping collected data for monitoring and combating fires. Additional cameras like 4K—which has two times the resolution of HD—and infrared enhance firefighters' situational awareness.
Their success so far has made some predict that their use will only increase, with the possibility that thousands of drones may one day help manned aerial vehicles make water and retardant drops. Indeed, although communities and individuals continue to be threatened with disasters associated with climate change, these technologies—which only continue to improve—promise ways for adaptation.
Detection, warning, and suppression
During 2020 – a year that saw one of the worst wildfire seasons on record – Church Mutual's CM Wildfire Solutions was credited with saving more than $124 million in total insured value.
Wildfire activity in California was far above the five-year average last year, including five of the six largest wildfires in the state's history. Colorado experienced the three largest wildfires in state history as well.
Church Mutual works with RedZone, which tracks and analyzes wildfires using artificial intelligence technology. The insurer has access to RedZone's maps and data through a dashboard that is integrated with its policy administration system to show the insured locations on the fire map.
RedZone alerts Church Mutual when any of its policyholders' properties appear to be in the path of a fire. The CM Wildfire Solutions team then evaluates the situation and sends an alert to the affected policyholders, letting them know they could be in danger.
Church Mutual continues to communicate with the customer and the broker and decides whether and when to deploy a fire suppression team. Church Mutual said it received more than 330 alerts from RedZone throughout the 2020 fire season, of which 23 resulted in a deployment. Deployed crews protect the insured property from the oncoming wildfire. This can include spraying fire-retardant onto the structures at risk.
Church Mutual said the program costs it $1 million to run.
"If you spend $1 million to save $124 million, that's a pretty darn good return on investment," said Rich Poirier, Church Mutual president and CEO.