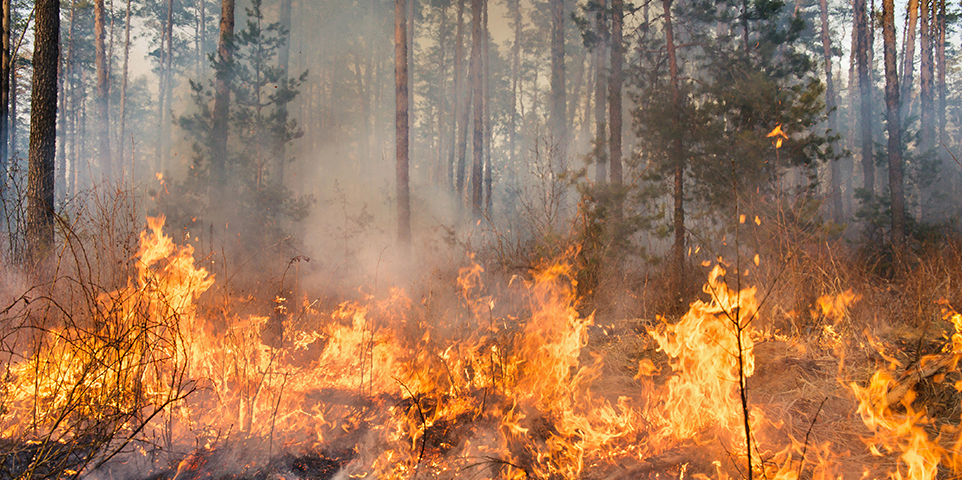 Wildfires
Triple-I Background on Wildfires
Fire plays an important role in the life of a forest, clearing away dead wood and undergrowth to make way for younger trees. But for much of the last century, fire-suppression policies have sought to extinguish wildfires as quickly as possible to preserve timber and real estate. This approach has led to the accumulation of brush and other vegetation that is easily ignited and serves as fuel for wildfires. Most of the large fires with significant property damage have occurred in California, where some of the fastest developing counties are in forest areas that were once largely uninhabited. These areas, known as the Wildland-Urban Interface (WUI), contained about a third of all housing units in the United States in 2017, according to the U.S. Forest Service.
Rising temperatures are also believed to contribute to large, destructive blazes. Warmer weather contributes to wildfire conditions in several ways: dryer and more combustible vegetation, more frequent lightning strikes, an extended fire season; and more intense winds.
Harvard School of Engineering and Applied Sciences researchers have concluded that by 2050 the number of wildfires in the West could rise by 50 percent, and across the U.S. the number would double.
Insured wildfire losses
Damage caused by fire and smoke are covered under standard homeowners, renters and business owners insurance policies and under the comprehensive portion of an auto insurance policy. Water or other damage caused by fire fighters to extinguish the fire is also covered under these policies. In California, the California FAIR Plan covers residential and commercial properties located in brush and wildfire areas. Properties in those areas are subject to higher rates due to increased risk of fire.
Causes of wildfires
As many as 90 percent of wildland fires in the United States are caused by humans, according to the U.S. Department of Interior. Some human-caused fires result from campfires left unattended, the burning of debris, downed power lines, negligently discarded cigarettes and intentional acts of arson. The remaining 10 percent are started by lightning or lava.
Wildfire prevention and mitigation
Researchers are discovering that embers blown by the wind during wildfires cause most of the fires that burn homes. Also, homes that are less than 15 feet apart are more likely to burn in clusters. In such cases, fire is often spread by combustible fences and decks connected to houses, a study by the Insurance Institute for Business & Home Safety (IBHS) found.
Among the preventive features recommended in the IBHS study were noncombustible siding, decking and roofing materials; covered vents; and fences not connected directly to the house. In addition, combustible structures in the yard such as playground equipment should be at least 30 feet away from the house and vegetation 100 feet away.