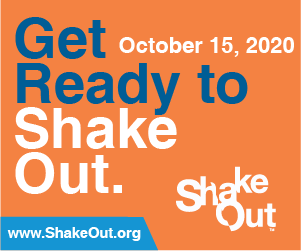 Earthquakes
Drop, Cover, and Hold On – Great Shakeout Earthquake Drills Take Place on October 15
About half of all Americans are at risk of ground shaking from earthquakes. That's why practicing what to do in the event of a quake is so important and why over 11 million people worldwide (and counting) are participating in this year's Great ShakeOut earthquake safety drill on October 15.
The Great ShakeOut Earthquake Drills is a worldwide earthquake safety movement. Most participate by registering to practice "Drop, Cover, and Hold On."
ShakeOut organizers recommend people follow the Seven Steps to Earthquake Safety, which starts with Step 1: Secure Your Space. Most earthquake injuries are entirely preventable and are caused by furniture and other objects that move or break when shaking occurs, resulting in trips, bruises, cuts, and more. You can secure your space by moving heavy objects down to lower shelves, relocate tall furniture away from entrances and exits, and secure cabinets with latches.
In California, a state where earthquakes are frequent, Earthquake Warning California is coordinating a statewide drill to coincide with ShakeOut. People who have downloaded the MyShake app to their phone will receive a TEST warning at 10:15am with guidance to Drop, Cover, and Hold On!
Due to the COVID-19 pandemic, some participants are adapting their ShakeOut activities through video-conferencing, choosing staggered or alternative dates, and following local health and safety guidelines.
To register for ShakeOut click here.
Additional Resources:
The Earthquake Country Alliance's Safer At Home Webinar Series offer many safety tips and advice on how to minimize financial hardship.
Triple-I's Facts & Statistics: Earthquake Insurance