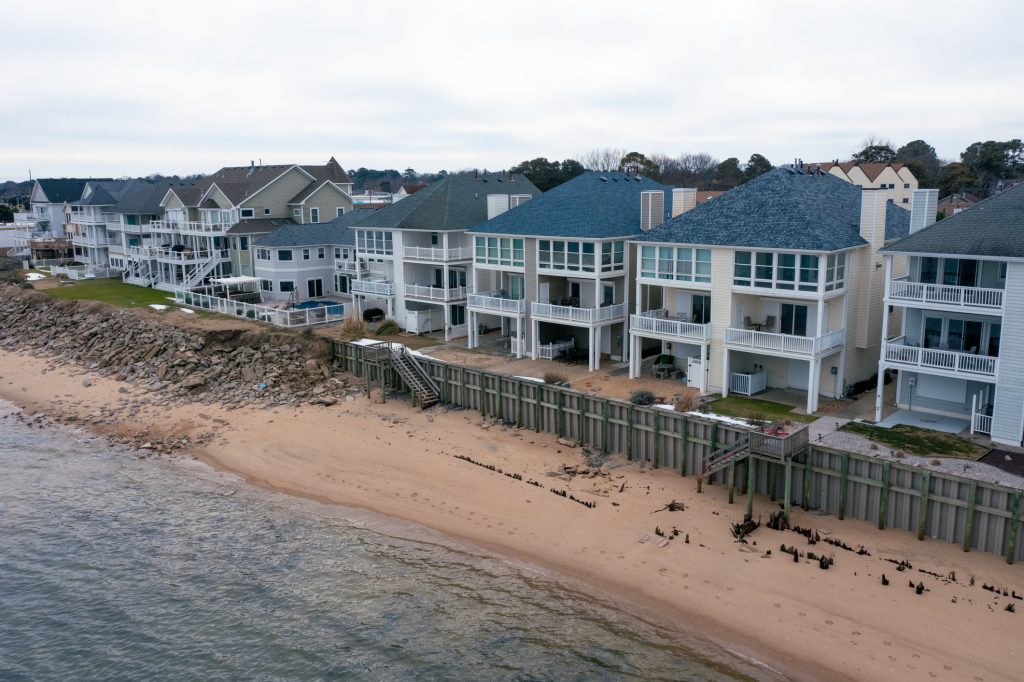 Floods
Coastal Virginia Rises to Meet the Challenge of Sea-Level Rise
Jeff Dunsavage, Senior Research Analyst, Triple-I (11/08/2022)
Coastal Virginia is emerging as a living laboratory for innovators interested in testing, validating, and demonstrating solutions to the growing problem of flooding.
Nearly half the U.S. population lives in areas vulnerable to sea level rise, leaving them at risk for shoreline erosion and flooding. These hazards threaten approximately $1 trillion in real estate and infrastructure along U.S. shores, and researchers say coastal flooding could cost up to $14.2 trillion worldwide by the end of the century.
With its low elevation, long shoreline, and some of the highest rates of relative sea level rise along the East Coast, coastal Virginia is particularly vulnerable to flooding. The land itself — a mix of river delta and glacial outwash plain — is prone to inundation from swollen rivers, rainwater runoff, and flooding during normal tidal conditions.
Sea level in the Virginia Beach area has climbed 10 inches in the last four decades alone, which has made extreme flooding more frequent. Exacerbating these conditions is the rapid growth of the Hampton Roads region. Over 1 million people live in a 10-mile radius in Hampton Roads, and there is limited room for new infrastructure to accommodate flooding and stormwater management. Aging systems can't keep pace with rising seas, rainwater, and flooded streets – particularly in underserved communities, which often bear the brunt of storms.
In 2017, the U.S. Department of Housing and Urban Development gave out nearly $1 billion to 13 states and communities. Virginia received $120 million, $5 million of which went toward launching a first-of-its-kind "coastal resilience lab and accelerator" dedicated to finding and testing ways to help the state adapt to the increasing effects of climate change.
Since 2018, the nonprofit RISE has deployed over $6 million to 35 companies through "Challenges" that bring coastal resilience entrepreneurs together to solve many of the problems urban and coastal communities are facing.
Submissions for the current "Flood Insurance of the Future Challenge" are being accepted through Nov. 30. To learn more and apply, please visit the RISE website.
A recent example is StormSensor, a Seattle-based climate tech startup. Within a month of winning a RISE Coastal Community Resilience Challenge, StormSensor had more than 20 sensors installed in the city of Norfolk's stormwater pipes collecting data on tidal backflows and measuring their capacity in some of the city's most flooded neighborhoods. It turned out that the city's stormwater system's main lines were half-full of water under ordinary circumstances, severely restricting their capacity to handle large rain events.
The city is now using the data to provide real-time backflow alerts, prioritize retrofits, and adapt future stormwater system plans.
"From affordable bioswale kits to trenchless pipe-laying technology, there are currently more than 20 pilot projects in coastal Virginia, all investigating new ways to help coastal communities adapt to climate change," says RISE Executive Director, Paul Robinson. "With support from RISE, we can not only address coastal Virginia's flooding issues but also create opportunities for jobs and economic growth."