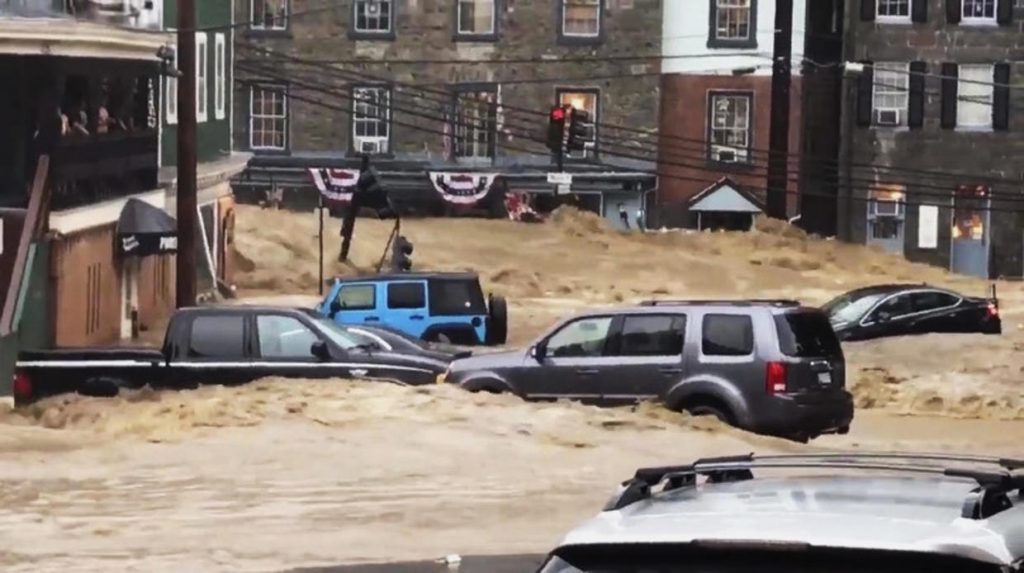 Floods
Proposed Flood Zone Expansion Would Increase Need for Private Insurance
Jeff Dunsavage, Senior Research Analyst, Triple-I (11/1/2023)
A federal advisory panel's proposal that the U.S. government expand the areas considered to be at high risk of flooding could increase the number of homeowners required to buy flood insurance. While this would increase the amount of insured flood risk across the nation, it also could drive up home ownership costs and disrupt housing markets.
This potential for disruption increases the importance of private insurers becoming more engaged in underwriting flood coverage.
The designated flood zone expansion is recommended by the Technical Mapping Advisory Council, which Congress created in 2012 to strengthen the National Flood Insurance Program (NFIP). Its members include state flood officials and experts from federal agencies such as the Federal Emergency Management Agency (FEMA) and the National Oceanic and Atmospheric Administration (NOAA).
Many homeowners have seen their federal flood insurance premiums rise as a result of FEMA's new Risk Rating 2.0 reforms to how NFIP prices flood risk. Ten states and dozens of municipalities are now suing the Biden administration over the rate hikes.
NFIP has played a critical role in filling a protection gap the private market was long unwilling or unable to address. Risk Rating 2.0 was necessary to repair a system in which owners of low-risk homes effectively subsidized insurance for owners of higher-risk ones. In this scenario, more accurate pricing was inevitably going to lead to increased rates for some and reduced rates for others. The previous system was inherently unfair for some and unsustainable for all.
Rising flood insurance rates – combined with increased demand for flood coverage if the proposed expansion takes place – makes it more important than ever that private insurers step in to provide capacity.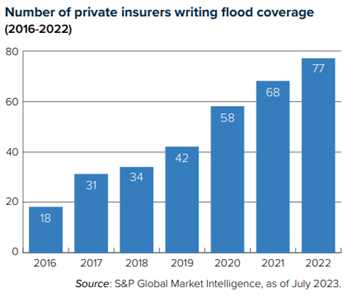 For decades, NFIP was practically the only source for flood insurance. The unpredictability of the peril made flood difficult for the private market to insure. In recent decades, however, improved data, analysis, and modeling have helped drive increased private-sector interest in flood. Between 2016 and 2022, the total flood market grew 24 percent – from $3.29 billion in direct premiums written to $4.09 billion – with 77 private companies writing 32.1 percent of the business. That's a big change since 2016, when only 12.6 percent of coverage was written by 18 insurers.
It's reasonable to expect that, as the cost of participating in the government-run flood insurance program rises for some and the size of the market increases, private insurers will recognize the opportunity and respond by applying cutting-edge data and analytics capabilities, more refined pricing techniques, and new products, such as parametric insurance, to seize those opportunities. It also is incumbent upon communities to explore innovative approaches like community-based disaster insurance programs.
Finally, it's essential for stakeholders to understand the importance of any insurance program – private, government-run, or some combination of the two – basing its underwriting and pricing on actuarially sound principles that accurately reflect the risk being transferred.
Want to know more about the risk crisis and how insurers are working to address it? Check out Triple-I's upcoming Town Hall, "Attacking the Risk Crisis," which will be held Nov. 30 in Washington, D.C.
Learn More:
FEMA Names Disaster Resilience Zones, Targeting At-Risk Communities for Investment
More Private Insurers Writing Flood Coverage; Consumer Demand Continues to Lag
Triple-I Issues Brief – Flood: State of the RiskStemming a Rising Tide: How Insurers Can Close the Risk Protection Gap