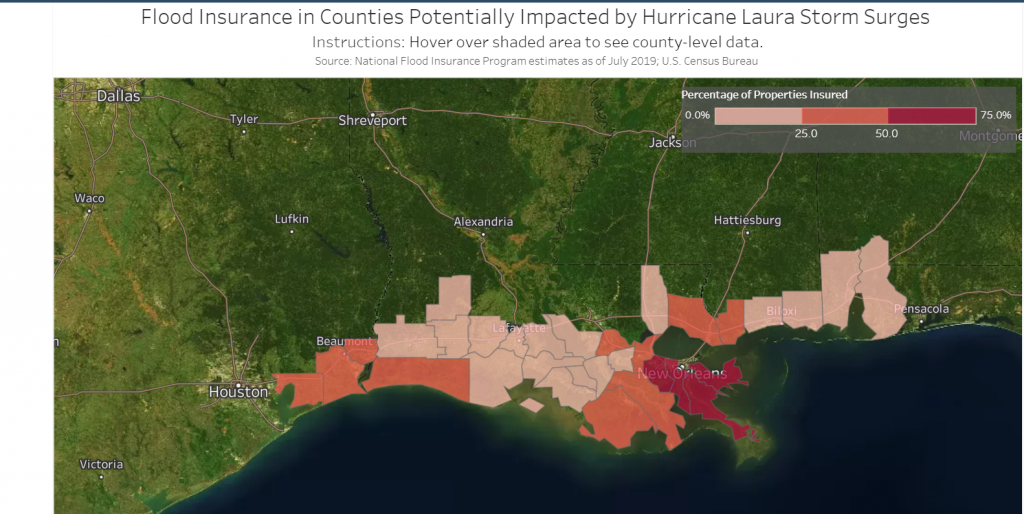 Floods
Flood insurance purchase rates in Texas and Louisiana coastal counties
Hurricane Laura's impact includes flooding from storm surge in coastal areas and inland flash flooding from heavy rainfall. Calcasieu Pass (Cameron Parish, LA) experienced the greatest storm surge, at 8.9 feet, and the Tide Station at Lake Charles crested at 6.06 feet (1.85 meters), according to Aon's weekly catastrophe report.
Before  the storm, the National Weather Service published a map of counties in Gulf Coast states most likely to be impacted by flooding from Laura. We estimated the percentage of properties in these counties that have flood insurance. The estimates range from just 4 percent in Allen Parish, LA and Mobile County, AL, to 63 percent in St. Bernard Parish, LA.
Standard homeowners and renters insurance policies do not cover flooding. The National Flood Insurance Program (NFIP) and a growing number of private companies sell the coverage. However, NFIP policies purchased now would take 30 days to take effect. Private companies have shorter waiting periods, about 14 days.
To see our interactive map click here.
For more information on flood insurance click here.