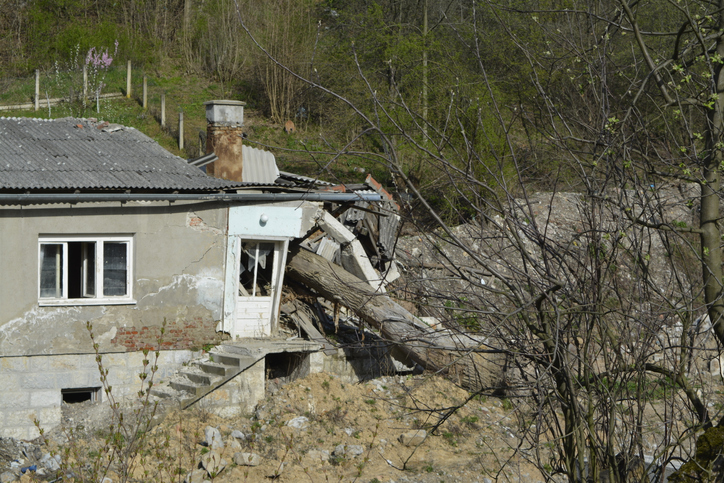 Floods
Northern California, Pacific Northwest Slammed as 'Bomb Cyclone', 'Atmospheric River' Follow Fires
Jeff Dunsavage, Senior Research Analyst, Triple-I (10/27/2021)
Powerful storms drenched fire-scarred Northern California and the Pacific Northwest over the weekend, triggering mudslides and flooding, while heavy winds toppled utility poles and downed trees.
The convergence of a large, fast-forming wind storm known as a "bomb cyclone" with a flow of rain and moisture known as an "atmospheric river" – after months of devastating wildfires – was a recipe for further extensive damage in the region. As we've written previously, mudslides often follow wildfires, making it essential that homeowners and businesses understand and prepare for a confluence of risks, including the insurance implications.
For example, it's important to understand the difference between "mudslides" and "mudflow" for insurance purposes. Mudslides occur when a mass of earth or rock moves downhill, propelled by gravity. They typically don't contain enough liquid to seep into your home, and they aren't eligible for flood insurance coverage.  In fact, mudslides are not covered by any policy.
Mudflow, on the other hand, is covered by flood insurance, which is available from FEMA's National Flood Insurance Program (NFIP) and a growing number of private insurers. Like flood, mudflow is excluded from standard homeowners and business insurance policies—you must buy the coverage separately. 
With respect to wind damage, Triple-I Director of Strategic Communication Janet Ruiz says, "Homeowners insurance will pay for damage caused by trees falling, and comprehensive auto coverage pays for tree-damaged cars, after deductibles are paid."
If you live near areas with risk of landslide, Ruiz says, you can purchase a "difference in conditions" policy, which typically offers all-in-one coverage for landslides, mudflows, earthquakes, and floods.
The National Weather Service has issued flood watches for much of Northern and Central California, including several wildfire burn areas from 2021 and 2020. Flooding, debris flows, and downed trees were reported in multiple locations in Northern California on Sunday. Nearly 400,000 power outages were reported across three states – more than 179,000 in Washington, with many of them due to high winds in King County around Seattle. You can follow updates on the storm's impact on The Weather Channel.