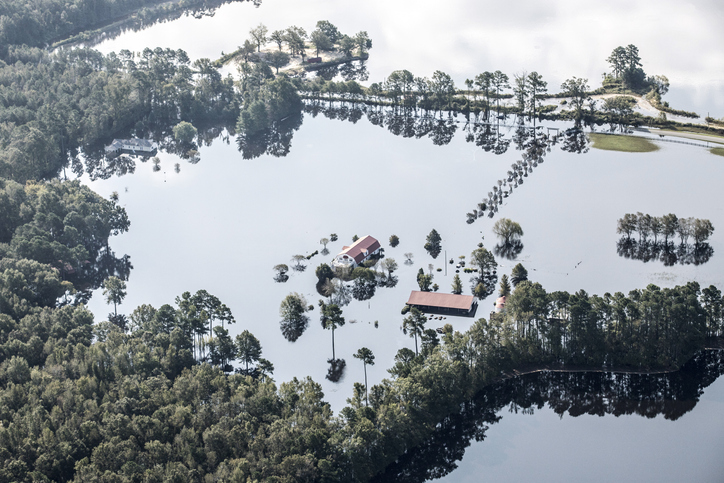 Floods
Study Quantifies Climate Change Impact on Flood Losses
Jeff Dunsavage, Senior Research Analyst, Triple-I
2/25/21
A new study from the nonprofit First Street Foundation projects the impact climate change may have on U.S. flood losses.
The report – The Cost of Climate: America's Growing Flood Risk – finds that, when adjusting for the long-term impact of a changing climate, nearly 4.3 million homes have "substantial" flood risk that would result in financial loss.
"If all of these homes were to insure against flood risk through the National Flood Insurance Program (NFIP)," the report continues, "the rates would need to increase 4.5 times to cover the estimated risk in 2021, and 7.2 times to cover the growing risk by 2051."
Last year, the foundation released a report indicating that nearly 6 million U.S. properties could be at greater risk of flooding than currently indicated by Federal Emergency Management Agency (FEMA) flood maps.
The new report is particularly resonant as FEMA prepares to implement Risk Rating 2.0, an initiative to make flood insurance pricing more representative of each policyholder's exposure and help customers better understand their risks and the importance of having flood coverage. It plans to accomplish this by using industry best practices and technology to deliver rates that "are fair, make sense, are easier to understand, and better reflect a property's unique flood risk. Implementation of Risk Rating 2.0 is scheduled to begin in October 2021.
Since homeowners who have federally backed mortgages and reside in FEMA-designated Special Flood Hazard Areas (SFHA) are required to buy flood insurance, the First Street data serve as an example of an early indicator of who could be most affected by risk-based rate changes in the near term and as the impacts of climate change evolve.
Potential cost consequences of expanded coverage under NFIP – or, worse, of not addressing the existing flood-protection gap – underscore the importance of a multi-pronged approach to mitigation and resilience that includes improved attention to how, where, and whether to build or rebuild and expanded availability and affordability of insurance.