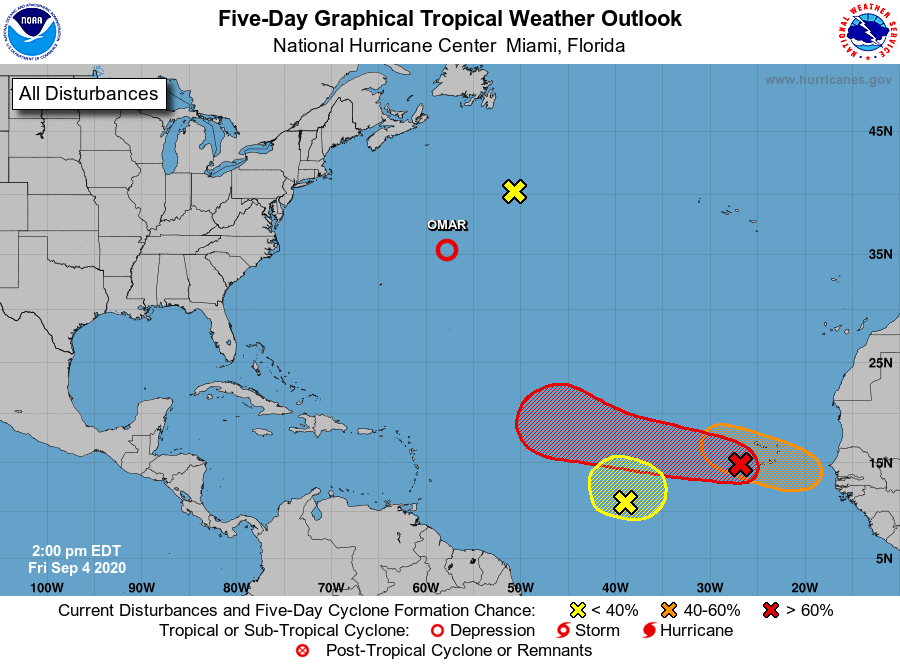 Hurricanes
Florida weekly update: 09/04/20
The National Hurricane Center (NHC) is no longer tracking the short life of Hurricane Nana, as the system degenerated into a tropical storm and then a remnant low Thursday after making landfall early Thursday as a Category 1 hurricane on the coast of Belize in Central America. Tropical Depression Omar, which formed as a tropical storm off the North Carolina coast on Tuesday, is expected to start fizzling out as well.

But the tropics remain very active as the NHC tracks several systems in the Atlantic Basin. One of the waves in the eastern Atlantic (indicated in red on graphic) has a 40 percent of development over the next 48 hours and 80 percent chance over the next five days, but it is expected to track toward the central Atlantic and not impact any land areas. Another wave in the eastern Atlantic (orange) has a 60 percent chance of development over the next five days and is expected to track toward the Caribbean. A third wave in the eastern Atlantic (yellow) has a 40 percent chance of development before it merges or interacts with the larger wave (orange) to the east, according to NHC's 2 p.m. ET update on Friday.

Through Sept. 3, there have been a record-setting 15 named Atlantic tropical cyclones this season, including five hurricanes (Hanna, Isaias, Laura, Marco and Nana), one major hurricane (Category 4 Laura) and 10 tropical storms ( Arthur, Bertha, Cristobal, Dolly, Edouard, Fay, Gonzalo, Josephine, Kyle and Omar). There are only six names left for the 2020 Atlantic season (Paulette, Rene, Sally, Teddy, Vicky and Wilfred) before the NHC has to revert to naming storms using letters from the Greek alphabet.

"Right now, conditions are pretty conducive — there's low levels of shear, the water is warm, and the waves are coming right off, one after the other," said Triple-I non-resident scholar Phil Klotzbach, PhD, research scientist for Colorado State University's Tropical Meteorology Project. "I suspect we're going to get a couple storms, but whether we get three or four weaker storms or one or two nasty strong storms is hard to know," Klotzbach told the Orlando Sentinel on Thursday.

In its two-week forecast issued on Sept. 2, CSU called for "above-normal amounts of hurricane activity" in the Atlantic Basin through Sept. 15.
Click here to read the full issue of the Florida weekly update.