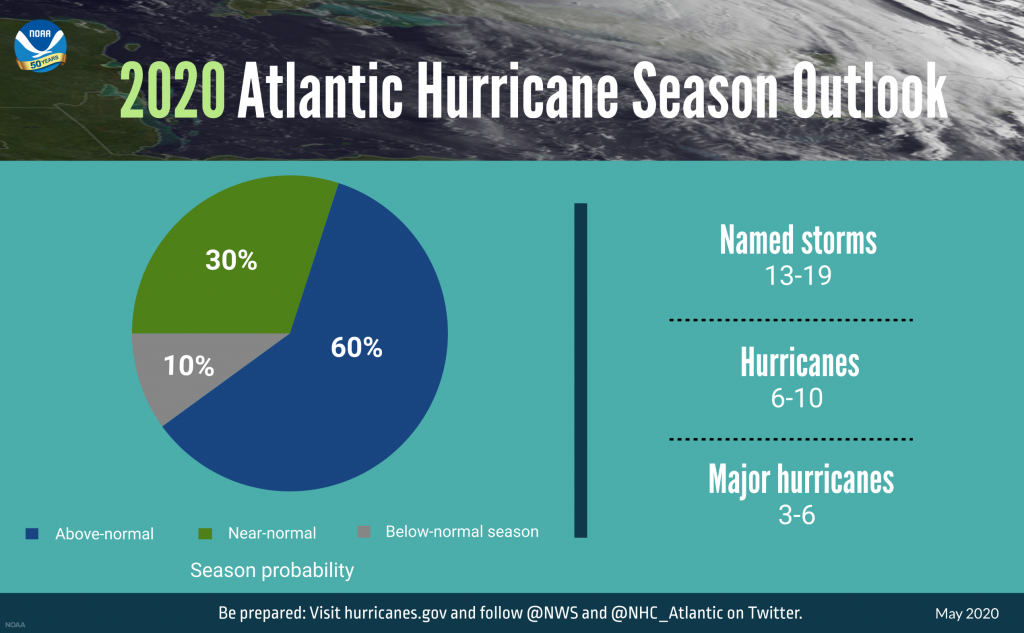 Hurricanes
Preparing for a hurricane amid a pandemic
The National Oceanic and Atmospheric Administration (NOAA) predicts an above-normal hurricane season in terms of the total number of storms. NOAA's May 21 2020 Atlantic Hurricane Season Outlook calls for 13-19 named storms, 6-10 hurricanes, and 3-6 major hurricanes.
An early forecast by the Colorado State University predicted 16 named storms, 8 hurricanes, and 4 major hurricanes for the year, with above-average probability for major hurricanes making landfall along the continental United States coastline and in the Caribbean. The Colorado State team, led by Triple-I non-resident scholar Dr. Phil Klotzbach, will have an updated forecast on June 4.
The Atlantic hurricane season runs from June 1 through November 30.
Hurricane preparedness during the COVID-19 pandemic
This year the COVID-19 pandemic adds a layer of difficulty to hurricane preparedness, particularly when it comes to evacuation plans. Florida state officials anticipate the challenge of preparing shelters with social distancing measures in place and have asked FEMA for guidance. New Orleans is advising residents to plan to include hand sanitizer and face coverings in their emergency home kits and go-bags.
As an alternative to emergency shelters, this P/C 360 article suggests that those who are able to do so should plan to stay with friends or relatives or secure a hotel room at least 100 miles inland from their home. Hurricanes can strike with little advance warning so it's vital to prepare.
The CDC has issued the following prep tips:
Understand that your planning may be different this year because of the need to protect yourself and others from COVID-19.
Give yourself more time than usual to prepare your emergency food, water, and medicine supplies. Home delivery is the safest choice for buying disaster supplies; however, that may not be an option for everyone. If in-person shopping is your only choice, take steps to protect your and others' health when running essential errands.
Protect yourself and others when filling prescriptions by limiting in-person visits to the pharmacy. Sign up for mail order delivery or call in your prescription ahead of time and use drive-through windows or curbside pickup, if available.
Pay attention to local guidance about updated plans for evacuations and shelters, including potential shelters for your pets.
If you need to evacuate, prepare a "go kit" with personal items you cannot do without during an emergency. Include items that can help protect you and others from COVID-19, such as hand sanitizer or bar or liquid soap if not available, and two cloth face coverings for each person. Face covers should not be used by children under the age of 2. They also should not be used by people having trouble breathing, or who are unconscious, incapacitated, or unable to remove the mask without assistance.
When you check on neighbors and friends, be sure to follow social distancing recommendations (staying at least 6 feet, about 2 arms' length, from others) and other CDC recommendations to protect yourself and others.
If you need to go to a disaster shelter, follow CDC recommendations for staying safe and healthy in a public disaster shelter during the COVID-19 pandemic.
Useful links
Hurricane preparedness tips and resources