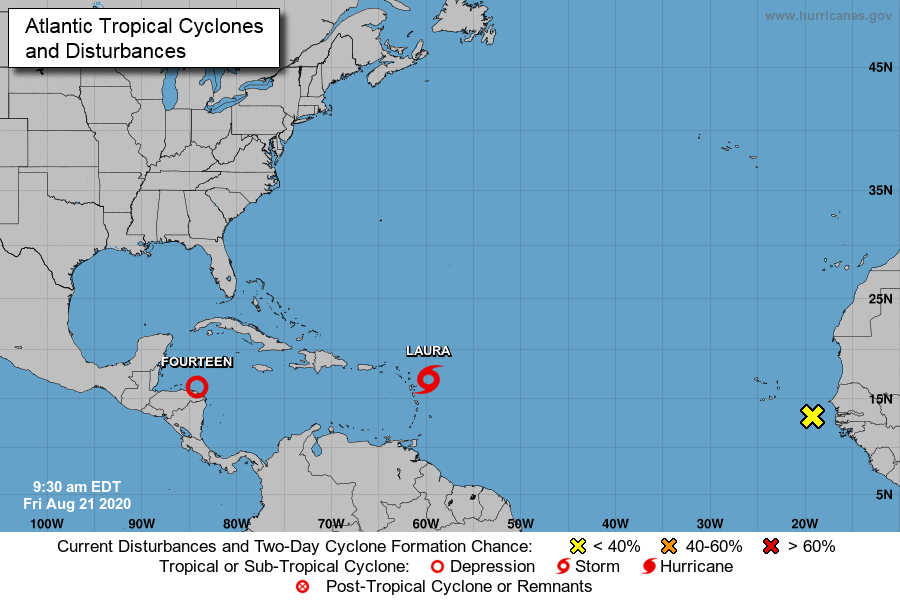 Hurricanes
Tropical Storm Laura and Tropical Depression Fourteen
8/21/2020
The latest named storm of the hurricane season, Tropical Storm Laura, is expected to affect the Leeward Islands, Puerto Rico, and the Virgin Islands with rain and gusty winds into this weekend. Laura may then head toward Florida and the Gulf of Mexico, possibly as a hurricane.
The National Hurricane Center shows Laura approaching Florida and the Gulf of Mexico as either a strong tropical storm or hurricane early next week.
Though the storm's intensity and track are still uncertain, as always, and especially during this extremely active hurricane season exacerbated by the covid-19 pandemic, coastal residents are encouraged to be prepared.
Please click on the links below for Triple-I's hurricane preparedness guides:
Tropical Depression 14 is expected to strengthen into a tropical storm later today and impact parts of Central America and Mexico before reaching the western Gulf of Mexico, where it could affect parts of the Texas and Louisiana Gulf Coasts next week.
If that forecast holds true, it would be the first time in recorded history that two hurricanes got through the Gulf's warm waters simultaneously, according to Colorado State University researcher and Triple-I non-resident scholar, Phil Klotzbach.