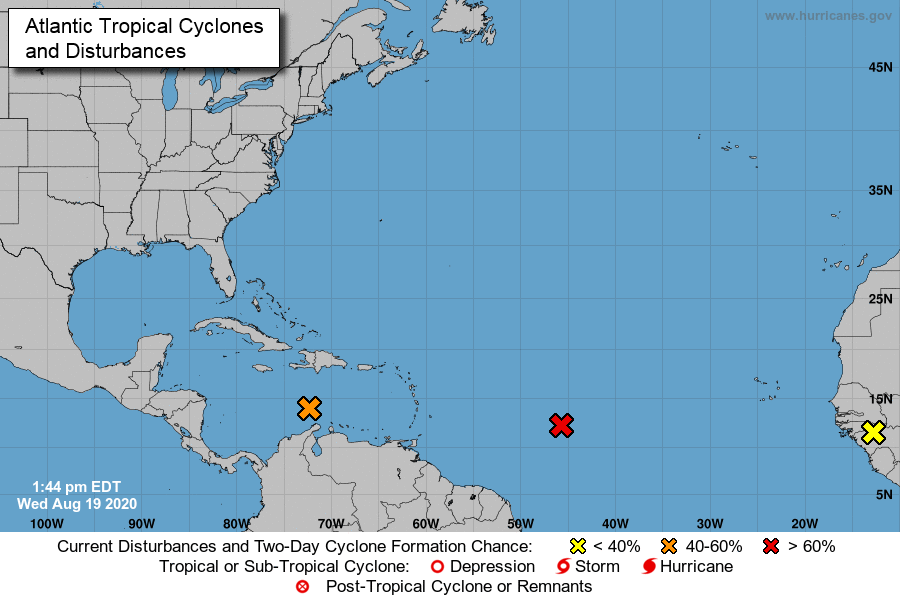 Hurricanes
Two-week forecast for Atlantic hurricane activity calls for above-normal activity for 8/19-9/1
A two-week Atlantic hurricane forecast was issued today by Colorado State University (CSU). The forecast for August 19 through September 1 calls for above-normal activity.
Dr. Phil Klotzbach, head of the CSU team and Triple-I non-resident scholar said a combination of hurricane-enhancing seasonal and sub-seasonal conditions are predicted to lead to an active period.
The National Hurricane Center is tracking three tropical waves that have the potential for tropical cyclone development. The disturbance with the greatest chance for development in the next couple of days is the one approaching the Leeward Islands.
The forecast for the entire 2020 season, which lasts from June 1 to November 30, calls for 24 named storms (up from 20 in the previous forecast), 12 hurricanes (up from nine), and five major hurricanes (up from four).
The season is considered "extremely active," and residents of all coastal states are encouraged to prepare now.
Please click on the links below for Triple-I's hurricane preparedness guides:

National Hurricane Preparedness Week
Hurricane Season Insurance Guide
How to Prepare for Hurricane Season
What to do When a Hurricane Threatens
Video: Create a Home Inventory
Video: Hurricane Insurance Guide