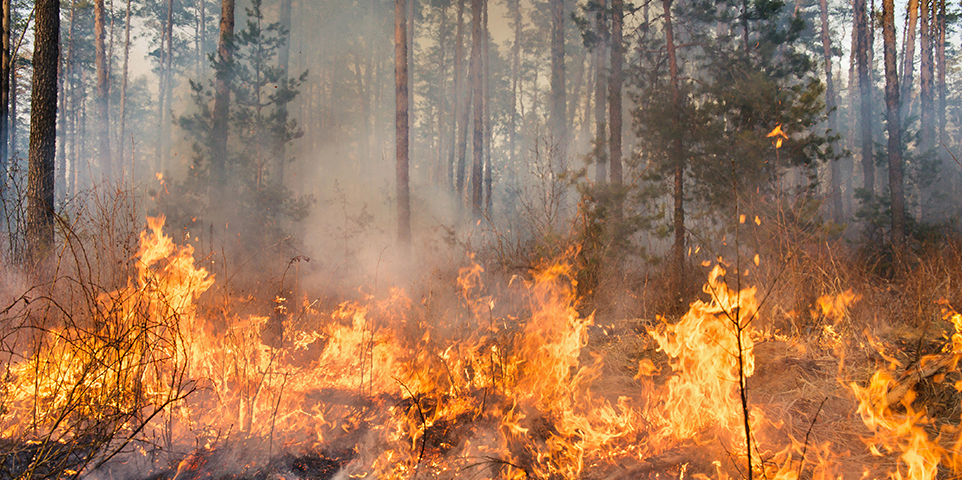 Wildfires
Bracing for Another Brutal Wildfire Season
Jeff Dunsavage, Senior Research Analyst, Triple-I, 05/18/21
Wildfires in California and across the West are starting earlier and ending later each year. The ongoing drought worsened last week, with every part of the state in moderate drought or worse.
After a 2020 fire season that Janet Ruiz, Triple-I's California-based director of strategic communications, called "anything but normal," this year's season may be even worse.
Warmer spring and summer temperatures, reduced snowpack, and earlier spring snowmelt create longer, more intense dry seasons that make forests more susceptible to wildfire. The fire season's length is estimated to have increased by 75 days across the Sierras and seems to correspond with an increase in the extent of forest fires across the state.
"Hots getting hotter"
California Gov. Gavin Newsom recently expanded a drought emergency declaration while seeking more than $6 billion in multiyear water spending.
"The hots are getting a lot hotter in this state, the dries are getting a lot drier," he said. "We have a conveyance system, a water system, that was designed for a world that no longer exists."
California Insurance Commissioner Ricardo Lara has called for property insurers across the state to play a larger role in boosting wildfire preparedness among homeowners and businesses by providing more wildfire mitigation incentives. He spotlighted eight insurance companies in the state and the California FAIR Plan, which offer discounts to policyholders that have taken adequate steps to harden homes and mitigate wildfire risk.
This group represents only 13 percent of the state market, and Lara hopes the figure will rise significantly this year.
"Insurance companies support and echo Commissioner Lara's call for mitigation," Mark Sektnan, vice president of American Property Casualty Insurance Association (APCIA), said in a statement on behalf of APCIA, the Personal Insurance Federation of California (PIFC), and the National Association of Mutual Insurance Companies (NAMIC). "Insurers are working with scientists and modelers to further the science of understanding how to better mitigate wildfire risk and understanding the value of various mitigation programs and efforts. While we cannot stop wildfires, we are learning how to mitigate the risks and are moving towards understanding and quantifying the value of individual and community mitigation. Insurers encourage homeowners, renters and businesses to get their property and finances ready for wildfires, as we are facing another dry, hot summer."
Mostly caused by people
As much as 90 percent of wildland fires in the United States are caused by people, according to the U.S. Department of Interior. Some human-caused fires result from campfires left unattended, the burning of debris, downed power lines, negligently discarded cigarettes and intentional acts of arson. The remaining 10 percent are started by lightning or lava.
The Insurance Institute for Business and Home Safety provides recommendations for reducing the likelihood of your home catching fire, including noncombustible siding, decking and roofing materials; covered vents; and fences not connected directly to the house. In addition, combustible structures in the yard such as playground equipment should be at least 30 feet away from the house and vegetation 100 feet away.
But given weather, climate, and population trends, more than individual planning and risk transfer through insurance will be required to head off wildfire risk and bounce back from events. Innovation and a resilience mindset on the part of governments, businesses, homeowners, and communities will need to take hold.
Want to learn more about wildfire mitigation and resilience? Register for "Wildfire Ready: How Do You Prepare Your Home and Finances for Wildfires?" on May 20 at 10 a.m. (PT)