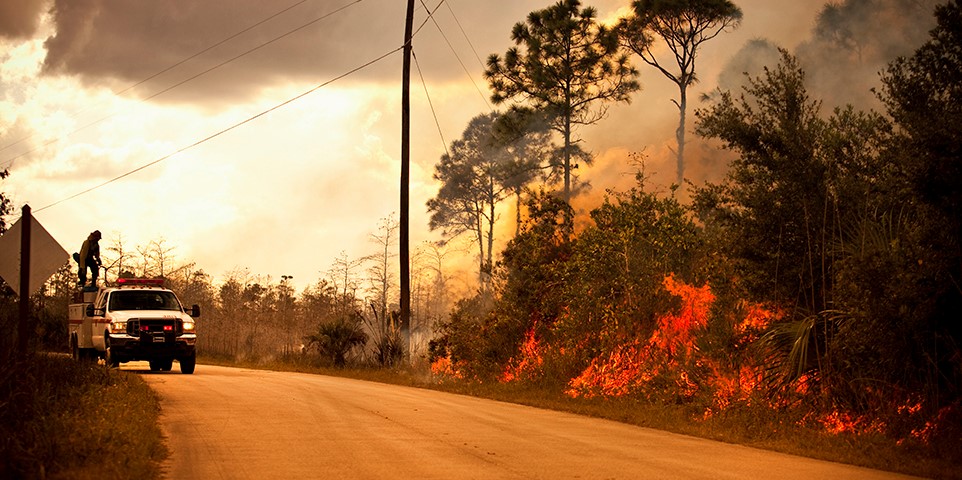 Wildfires
Federal Legislation Dramatically Increases Funding for Wildfire Prevention, Mitigation
Jeff Dunsavage, Senior Research Analyst, Triple-I (11/23/2021)
Two federal legislative measures – the infrastructure bill President Biden recently signed into law and the "Build Back Better" bill that was approved by the House of Representatives and is being considered in the Senate – together would dramatically increase funding for wildfire prevention and mitigation.
Such federal investment is consistent with recommendations Triple-I made last week in its response to a Federal Insurance Office (FIO) request for information on the insurance sector and climate-related risks.
John Watts, senior counselor with the office of U.S. Sen. Dianne Feinstein (D-CA), said the two measures would, over the next 10 years, quadruple federal funding for fuel reduction and forest thinning. The current budget, Watts said, provides about $5 billion over a decade for those efforts, and these bills, between them, include $16 billion to $17 billion.
"If you add that to the $5 billion through regular appropriations, and we will be over $20 billion in federal funding for fuel reduction over the next decade," Watts said in a recent webinar sponsored by the Bay Area Council Economic Institute.
The infrastructure measure includes:
$600 million to convert 1,000 seasonal federal wildland firefighters to permanent year-round positions and increase pay for federal firefighters by up to $20,000 per year;
$3.3 billion for critical wildfire risk-reduction efforts;
$5 billion for utilities and grid operators to bury power lines and install fire-resistant technologies to prevent wildfires, as well as expand use of micro-grids to reduce the impact of power shutoffs;
$3.5 billion for the weatherization assistance program to help homeowners make energy-efficiency and fire-resistance improvements to their homes.
The pending "Build Back Better Act" includes:
$14 billion for hazardous fuels reduction on national forests, focusing on areas around at-risk communities and using prescribed burning;
$1 billion for collaborative forest management projects on national forests;
$3 billion in grants for state, tribal and local governments and nonprofit organizations to reduce the risk of wildfires on nonfederal lands,implement community wildfire protection plans, purchase firefighting equipment, and provide firefighter training;
$775 million for grants under the wood innovations grant program, which helps with the development and construction of new facilities to use small-diameter wood generated by hazardous fuel reduction projects;
$400 million in grants to state, tribal and local governments and nonprofit organizations for recovery of burned forested areas, state fire assistance and volunteer fire assistance programs;
$150 million for EPA grants to communities to address wildfire smoke;
$500 million for wildfire management by Bureau of Land Management and Park Service.
"California's wildfires are getting bigger, burning hotter, and exhibiting more extreme behavior than in the past," Watts said. "Climate change will exacerbate the problem, so, we need to do all we can now to bolster our work on the prevention side. We'll likely end this year with the second-most acres burned per year in California history, behind last year's record-breaking 4.25 million acres."
Wildfire prevention and mitigation isn't just an issue for states like California and others where much of the out-of-control burning occurs. It's increasingly a public health issue as the smoke – full of dangerous particles – makes its way across the region and the rest of the country.
"I hate to say it, but this year smoke finally made it to the East Coast – and I think people on the East Coast started to grasp the urgency of the situation," U.S. Sen. Michael Bennet (D-CO) told Thomson Reuters. Bennet estimated that costs for wildfire mitigation measures run about $1,500 per acre – far lower than the $50,000 per acre to fight fires that have already started.
For insurers that pay the claims associated with increasingly frequent and severe fires, such investment in prevention and mitigation represents a good investment. Two of California's worst wildfires in 2018 cost Allstate Corp. a half-billion dollars. It had already shrunk its footprint in California by half. Allstate wasn't alone – it and other insurers dropped tens of thousands of homeowners in the Sierra foothills and other fire-prone areas of California, forcing policyholders into a costly, state-mandated insurance pool.
Earlier this year, however, Allstate told California regulators it planned to expand its homeowners' coverage throughout the state — taking on new customers for the first time in nearly 15 years.
"To the extent that FIO and other federal agencies can help keep a lid on losses and claims by helping to drive advances in pre-emptive mitigation and resilience, insurers and risk managers will be able to continue doing what they already are doing well," Triple-I executives wrote in their response to FIO's request for information. "The federal government can play a constructive role by working with state and local authorities to drive improved resilience in problem areas."