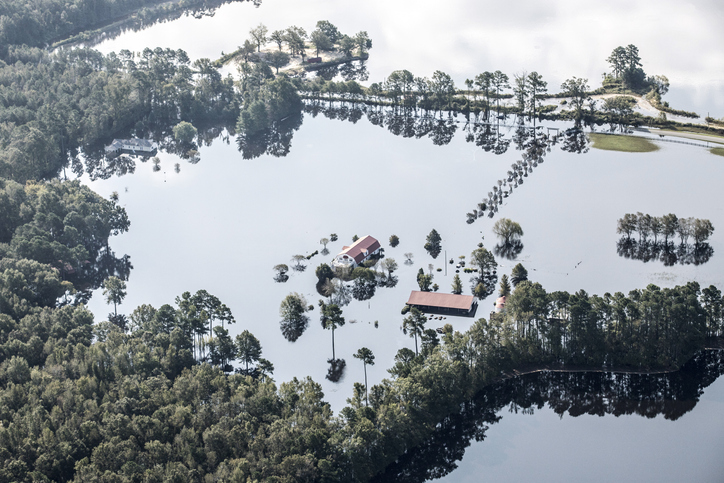 Floods
Hurricane Ian's Inland Impact Highlights Flood Protection Gap in Florida and Beyond
Jeff Dunsavage, Senior Research Analyst, Triple-I (10/04/2022)
Hurricane Ian's trail of devastation across Florida follows five years of reduced flood insurance coverage by Floridians and coincides with a larger insurance crisis in the state, as well as growing concerns about inland flooding nationwide.
In all locations pummeled by Ian, the percentage of homes covered by flood policies is down from five years ago, said Trevor Burgess, CEO of Neptune Flood Insurance, a St. Petersburg, Fla.-based private flood insurer. Mark Friedlander, Triple-I's director of corporate communications, told Fox Weather that, while more than 50 percent of properties along Florida's western Gulf Coast are insured for flood, "inland…the take-up rates for flood insurance are below five percent."
"We're very concerned that there are so many Florida homeowners that don't have flood insurance right now," Friedlander said.
While Florida is at particularly severe and persistent risk of hurricane-related flooding, the protection gap is by no means unique to the Sunshine State. Inland flooding due to hurricanes is causing increased damage and losses nationwide – often in areas where homeowners tend not to buy flood insurance.
"The whole swath going up the East Coast" that Hurricane Ida struck in the days after it made landfall "had less than 5 percent flood insurance coverage," said Triple-I CEO Sean Kevelighan. In the days after Ida made landfall in August 2021, massive amounts of rain fell in inland, flooding subway lines and streets in New York and New Jersey. More than 40 people were killed in those states and Pennsylvania as basement apartments suddenly filled with water. In the hardest-hit areas, flood insurance take-up rates were under five percent.
Damaging floods that hit Eastern Kentucky in late July 2022 and led to the deaths of 38 people also were largely uninsured against. A mere 1 percent of properties in the counties most affected by the flooding have federal flood insurance.
"We've seen some pretty significant changes in the impact of flooding from hurricanes, very far inland," Keith Wolfe, Swiss Re's president for U.S. property and casualty, said in a recent Triple-I Executive Exchange. "Hurricanes have just behaved very differently in the past five years, once they come on shore, from what we've seen in the past 20."
Widespread lack of flood insurance will force many of Ian's victims to seek federal disaster assistance in the form of grants and loans, slowing efforts to rebuild as people patch together funds for recovery. In numerous media interviews over the past week, Friedlander stressed that FEMA grants do not replace insurance coverage.
This devastation arrives as Florida's homeowners' insurance market finds itself in peril for reasons that have little do with the state's hurricane exposure.
"Floridians are seeing homeowners' insurance become costlier and scarcer because for years the state has been the home of too much litigation and too many fraudulent roof-replacement schemes," Triple-I's Kevelighan said. "These two factors contributed enormously to the net underwriting losses Florida's homeowners' insurers cumulatively incurred between 2017 and 2021."
With 90 percent of U.S. natural disasters involving flooding, Triple-I recommends that all homeowners include flood insurance as part of their financial protection. Flood damage is not covered by standard homeowners or renters policies or in most commercial property insurance policies. Coverage is available separately from the National Flood Insurance Program (NFIP) and from many private insurers. Florida has the most robust private flood insurance market in the U.S., with dozens of alternatives to NFIP coverage.
RELATED LINKS:
Triple-I Issues Briefs:
Florida's Homeowners Insurance Crisis (August 2022)
Hurricanes: State of the Risk (June 2022)
Consumer Information:
Catastrophes: Insurance Issues
Settling Insurance Claims After a Disaster
Spotlight on Flood Insurance
Facts About Flood Insurance
Recovering from a Flood
Infographic:
What are Hurricane Deductibles?