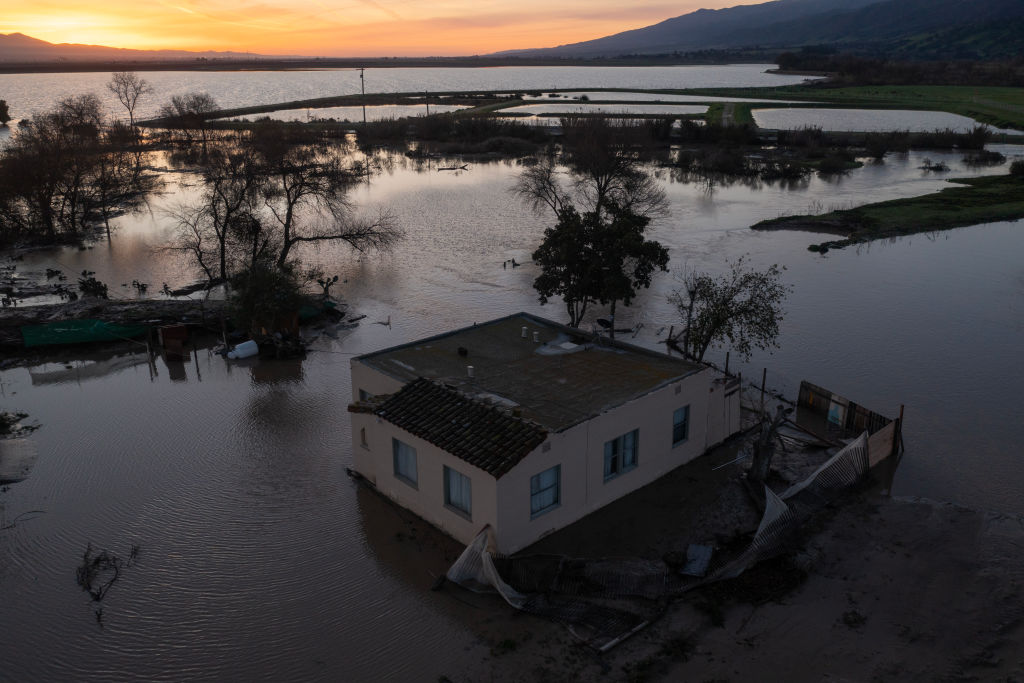 Floods
Climate Risk Isn't All About Climate: Population, Land Use, Incentives Need to Be Addressed
Jeff Dunsavage, Senior Research Analyst, Triple-I (01/24/2023)
Whether the "atmospheric rivers" that recently inflicted weeks of damaging rains on California are "caused by climate change" or not (The Los Angeles Times says they likely aren't) is largely beside the point.
The salient fact, from a risk-management perspective, is that a convergence of factors is contributing to more frequent, more costly severe-weather events – and governments, businesses, and communities need to work together to address these perils or their impacts will only worsen.
"Although the media and some officials were quick to link a series of powerful storms to climate change, researchers interviewed by The Times said they had yet to see evidence of that connection," the paper reports. "Instead, the unexpected onslaught of rain and snow after three years of punishing drought appears akin to other major storms that have struck California every decade or more since experts began keeping records in the 1800s."
Fair enough. But a few things have changed in California since the 1800s. Most notably: the population has gone from just over 1 million in 1800 to over 39 million. That population isn't uniformly spread across the state's nearly 164,000 square miles. Much of it is concentrated in cities and the suburbs and industrial areas that sprawl around them.
Dropping more than 30 trillion gallons of water onto such a populous state over a period of three weeks is going to be damaging and disruptive no matter what. Doing so after an extended period of drought marked by some of the most destructive wildfires in the state's history makes California even more prone to mudslides and rockslides than ever. Since New Year's Eve, the California Department of Conservation's landslide mapping team has documented more than 300 landslides.
Fire, flood, mud
Many Californians may not be aware that homeowners' and commercial insurance policies typically exclude flood, mudslide, debris flow, and other similar disasters — unless they are directly or indirectly caused by a recent wildfire or another peril covered by the applicable insurance policy. For insurance purposes, it's important to understand the difference between "mudslides" and "mudflow."
Mudslides occur when a mass of earth or rock moves downhill, propelled by gravity. They typically don't contain enough liquid to seep into your home, and they aren't eligible for flood insurance coverage.  In fact, mudslides are not covered by any policy.
Mudflow is covered by flood insurance, which is available from FEMA's National Flood Insurance Program (NFIP) and a growing number of private insurers. Like flood, mudflow is excluded from standard homeowners and business insurance policies—you must buy the coverage separately.
California isn't alone
The recent California storms killed 19 people and caused up to $1 billion in damage. In 2021, the remnants of Hurricane Ida dropped massive amounts of rain far inland, flooding subway lines and streets in New York and New Jersey. More than 40 people were killed in those states and Pennsylvania as basement apartments suddenly filled with water. In the hardest-hit areas, flood insurance take-up rates were under five percent.
Similarly, damaging floods that hit Eastern Kentucky in July 2022 and led to the deaths of 38 people also were largely uninsured against. A mere 1 percent of properties in the counties most affected by the flooding had federal flood insurance.
"We've seen some pretty significant changes in the impact of flooding from hurricanes, very far inland," Keith Wolfe, Swiss Re's president for U.S. property and casualty, said in a recent Triple-I Executive Exchange. "Hurricanes have just behaved very differently in the past five years, once they come on shore, from what we've seen in the past 20."
Whether or not hurricanes and atmospheric rivers are being augmented by climate change, the rising costs associated with these and other natural disasters are being exacerbated by population shifts, aging or non-existent flood-management infrastructure, outdated zoning and building codes, and financial incentives to build (and rebuild) in harm's way. Ways to address these factors need to be more fully incorporated into the public dialogue around predicting and preventing devastating losses.
Learn More:
Stemming a Rising Tide: How Insurers Can Close the Flood Protection Gap
Coastal Virginia Rises to Meet the Challenge of Sea-Level Rise
Hurricane Ian's Inland Impact Highlights Flood Protection Gap in Florida and Beyond